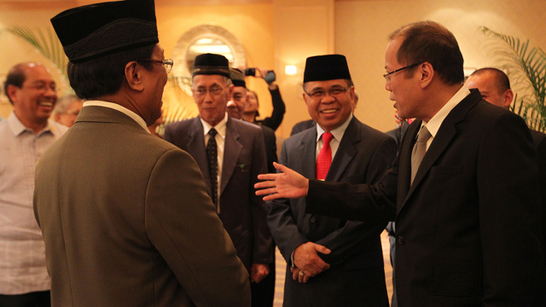 Filipinos in the Bangsamoro region in Mindanao on Thursday, June 24, paid tribute to the late president Benigno Aquino III, whose presidency revived the stalled peace negotiations with Muslim rebels.
Naguib Sinarimbo of the Ministry of Interior and Local Government of the Bangsamoro Autonomous Region in Muslim Mindanao (BARMM) recalled how the peace process achieved a major breakthrough during his administration.
"He took the risk to revive the peace process when he met with MILF Chair Murad Ebrahim in Tokyo," said Sinarimbo, referring to the Moro Islamic Liberation Front (MILF), the dominant rebel force in the region that has since laid down its arms.
The unannounced Aquino-Murad meeting in Tokyo in August 2011 paved the way for the peace talks between the Aquino administration and the MILF.
The end to the decades-long conflict soon became a likelihood when both parties signed the Framework Agreement on the Bangsamoro (FAB) in October 2012 in Malacañang, which the Japanese government described as "an important first step toward the realization of the final agreement concerning the Mindanao Peace Process."
FAB called for the creation of a new political entity that was envisioned to replace the Autonomous Region in Muslim Mindanao (ARMM).
This resulted in the signing of the Comprehensive Agreement on the Bangsamoro in March 2014, the final peace agreement between the two parties.
/ITC — AdChoiceTV News (Manila)