The volunteer group aims to 'help promote' Vice President Leni Robredo's possible presidential bid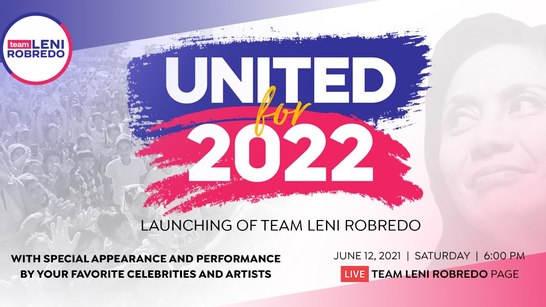 A group of Filipino sectoral representatives and artists are coming together to support the possible 2022 presidential bid of the country's opposition leader, Vice President Leni Robredo.
The volunteer group calling itself "Team Leni Robredo" will have an online launch at 6 pm on Independence Day, June 12 – the same day that the 1Sambayan opposition coalition is set to announce its list of nominees for the national slate it would endorse in 2022.
Robredo, who has yet to decide on her electoral bid in 2022, is already part of 1Sambayan's initial choices to be the opposition's possible standard-bearer.
According to its official website, Team Leni Robredo volunteers are "supportive" of the Vice President and will organize campaigns to "help promote" her.
"Our movement draws its strength from our ability to transform individual support into concerted action. Given the challenges facing us today, we need to harness and unleash the power of a united populace to bring back democracy and good governance to our country," said Team Leni Robredo.
"Our very lives depend on it. The future of our children is at stake. Because nothing is stronger than the heart of a volunteer," they added.
Based on the program sent by Team Leni Robredo to reporters, the launch would feature messages from sectoral leaders and renowned artists like Enchong Dee, Saab Magalona, Rica Peralejo, and Lauren Young.
The following musicians would also perform during the event. They are:
Gracenote
Moonstar88
Banda ni Kleggy
Audie Gemora
6Cyclemind
Juris
Louie Ocampo, et al
Bituin Escalante
Filipino singer Escalante previously admitted she voted for President Rodrigo Duterte in 2016, but she has since withdrawn her support after seeing the extrajudicial killings in Duterte's bloody drug war.
In 2019, Escalante helped promote the Liberal Party-led Otso Diretso senatorial slate, which relied heavily on volunteers to run its campaign. No opposition candidate, however, won a seat in the Senate.
/PEM — AdChoiceTV News