'You must be cool; second, you must be composed; and third, collected. Were you not briefed on that?'
AdChoiceTV News — It was his first time to interpellate in oral arguments as the top magistrate, and Chief Justice Alexander Gesmundo did it markedly – scolding a government lawyer for not being adequately briefed.
"The primer tells us that for the purposes of oral arguments, there are 3 things you must consider: First, you must be cool; second, you must be composed; and third, collected. Were you not briefed on that?" Gesmundo asked Assistant Solicitor General Marissa dela Cruz-Galandines on Wednesday, May 11, for Day 8 of the anti-terror law oral arguments.
Galandines had been noticeably aggressive in her tone towards justices in the recent days of anti-terror law oral arguments, which could be where Gesmundo was coming from.
"We were not briefed on that, your honor," Galandines said softly.
But Gesmundo was not done. "Sipping of water will help you a lot during the oral arguments, sip a little water from time to time, that will be of great help to you during oral arguments," the chief justice said.
"Not only that, I added 3 other elements on oral arguments, you must be alert, you must be attentive, and you must be accurate," said Gesmundo.
Gesmundo was talking about oral argument primers at the Office of the Solicitor General (OSG). Gesmundo was from the OSG himself, reaching the rank of ASG like Galandines, before he was appointed Sandiganbayan justice and then the Supreme Court.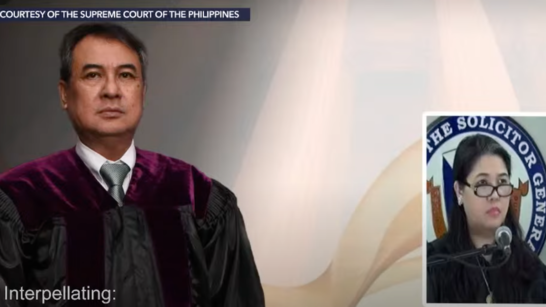 Solicitor General Jose Calida, for the first time since his tenure, did not speak during the oral arguments himself for the anti-terror law, and instead designated Galandines and ASG Raymund Rigodon.
There had been observations about the preparedness of the two ASGs to face gruelling oral arguments on arguably one of the biggest petitions in the Supreme Court in the last decade.
Many times during oral arguments, the two ASGs either fumbled for answers, or could not answer at all, during which the interpellating justice just moved on.
For example, ASG Raymund Rigodon could not answer Gesmundo's question about how the anti-terror law can be reconciled with the anti-torture law or Republic Act 9745.
"Can we expound on that in our memorandum, because I haven't read in detail 9745," said Rigodon.
Rigodon also could not answer a question related to the case Moncupa vs Enrile about travel restrictions on a person temporarily released from detention.
"Have you read the case of Moncupa vs Enrile?" asked Gesmundo.
"No, your honor," Rigodon replied.
As justices asked the OSG to address the unanswered questions in their memorandum, Gesmundo reminded them about a primer they have on how to prepare a brief, which could also be used to write an effective memorandum.
"One of the things that was highlighted in that reading material is that a memorandum filed in Court should appear, and written in a way that is practically a draft of a decision, to help the Court," said Gesmundo.
When it was Rigodon's turn, Gesmundo asked him if there are any other ASGs assigned to face interpellation.
"We are the only ones designated," said Rigodon.
Day 9 will continue on Monday, May 17.
Article by Lian Buan/Rappler via AdChoiceTV News