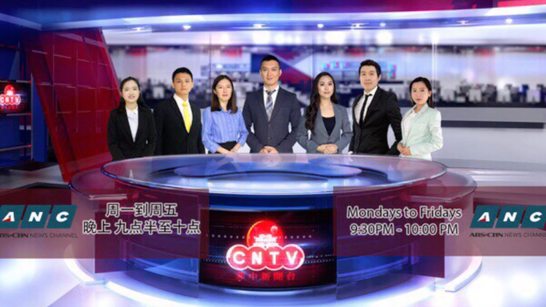 AdChoiceTV News — The ABS-CBN News Channel (ANC) has entered into an agreement with a Filipino-Chinese media company to air "Chinese News TV (CNTV)," a nightly weekday news program delivered mainly in Mandarin Chinese.
CNTV began airing on the cable news channel on Monday, April 12. According to its website, "CNTV is the first news program that regularly reports Philippine headlines in Mandarin Chinese." It also uses English and Filipino as supporting languages.
It aims to "promote shared Filipino-Chinese culture" and "spread the One Belt One Road advocacy," China's initiative that aims to link the economic circles in East Asia and Europe, connecting China – on land and over water – to partners in Asia, Europe, and Africa.
CNTV is produced by Horizon of the Sun Communications, Incorporated, the same team behind Chinatown TV, the longest running Filipino-Chinese lifestyle show. Horizon of the Sun Communications is headed by Lolita Ching and daughter Louella Ching-Chan. CNTV also aired on government station IBC-13 and the Iglesio ni Cristo-owned channel NET25.
Ching-Chan said CNTV has been airing since November 2017 and has always catered to the local Filipino-Chinese community.
"We decided to join ANC because it is a reputable news channel that would help us reach our audience," she said in a response to AdChoiceTV News.
In a statement, ABS-CBN said it "retains the editorial control, provides the newscast with national stories, and ensures the translation from Mandarin to English subtitles are accurate."
After drawing the ire of President Rodrigo Duterte, ABS-CBN, ANC's mother company, was shut down in 2020 for supposed numerous violations. Some of its programs are still airing on free TV through blocktime deals with other local channels and on ABS-CBN's cable and digital platforms.
Filipinos remain skeptical of China despite Duterte's closer ties to the regional giant and the outpouring of Chinese loans and vaccine donations to the Philippines.
Reporting by Albert Rovic Tan / AdChoiceTV News Manila