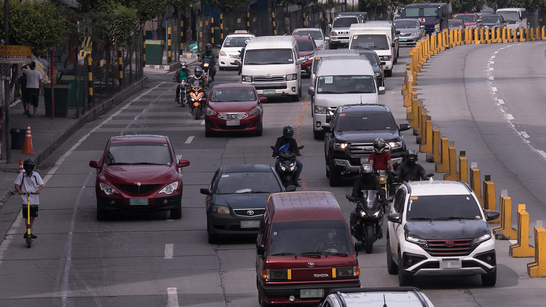 AdChoiceTV News — A year into the pandemic, the government is now requiring all passengers of vehicles to wear face masks even if they are from the same household.
In a joint statement on Friday, February 5, the Department of Transportation (DOTr) and the Department of Health (DOH) issued the following guidelines approved by the government coronavirus task force:
When traveling alone, the driver may remove his/her face mask;
When the driver is with passenger/s, it is mandatory for all individuals inside the vehicle to properly wear a face mask, regardless if they are from the same household.
The DOTr and DOH said that proper coordination should be made with concerned agencies for this "unified and clarified policy, and the imposition of appropriate fines and penalties for violations thereof, in accordance with existing laws, rules and regulations."
In May 2020, the Land Transportation Office (LTO) issued Memorandum Circular No. 2020-2185, which stated that not wearing face masks was equivalent to reckless driving for both public and private vehicles. Fines ranged from P2,000 to P10,000 depending on the frequency of the offense.
Some have questioned the need for face coverings, especially for families traveling inside the same vehicle.
On Tuesday, February 2, the LTO has also required child seats in vehicles.
'Simply ludicrous and unrealistic'
Senator Grace Poe has asked the government's coronavirus task force to reconsider its policy requiring passengers from the household to wear face masks inside vehicles.
"I ask the IATF to rethink its policy requiring occupants of a vehicle to wear anti-virus masks even if they are from the same household. This order is simply ludicrous and unrealistic," she said in a statement shortly after the DOH and DOTR announced the new rule.
"The car is like an extension of the family's house. As long as there are no strangers inside it, it can be considered as their private bubble. Wearing face mask should be required in public transportation and carpooling, but not inside private vehicles carrying members of same household," she added.
Poe, chair of the Senate committee on public services, said she will ask concerned officials to explain this new rule during the Senate hearing on February 9. — via Irvin Chua