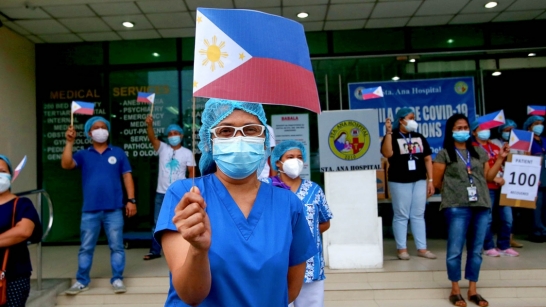 The Philippine government is allowing all health workers with complete documents as of August 31, 2020, to leave the country for work aboard.
Presidential Spokesperson Harry Roque announced this on Monday, September 21, saying President Rodrigo Duterte approved the further easing of restrictions on the deployment ban against overseas Filipino health workers.
"The President has allowed health professionals with complete documentation as of August 31, 2020, to leave for work abroad," Roque said in Filipino.
Before this, only overseas health workers with overseas employment certificates (OECs) issued by the Philippine Overseas Employment Administration (POEA) and verified contacts as of March 8were allowed to leave the Philippines.
Citing figures from the Department of Labor and Employment, Roque said some 1,500 stand to benefit from the easing of restricitons.
In demand
The further easing of the POEA's deployment ban comes after overseas health workers have repeatedly pleaded with government officials to allow them to leave for their jobs abroad.
Many of the workers said they had spent thousands of pesos and had waited months for visas that were about to expire.
Overseas health workers, majority of whom were nurses, have opted to work abroad due to low wages and poor working conditions in their home country.
Aside from nurses, other health professionals allowed to leave were the following:
Medical doctor/physician
Nurse
Microbiologist
Molecular biologist
Clinical analyst
Respiratory therapist
Pharmacist
Laboratory technician
X-ray/radiologic technician
Nursing assistant/nursing aid
Operator of medical equipment
Supervisor of health services and personal care
Repairman of medical-hospital equipment
Filipino health workers have been highly sought after by other countries to care for the sickest during the coronavirus pandemic.
Since the ban was first implemented in April, Duterte has toyed with the idea of keeping Filipino health workers in the country, arguing he was "concerned" for their safety.
During the earlier months of the pandemic, the President also said that while he was "okay" with the decision of health workers to leave, he appealed to them to remain in the country during the coronavirus outbreak. — | via Sean Tyler Chan / AdChoiceTV News